Join Brittany DeSha' every Saturday at 6p.m. for Z-Wind.
We play a mix of the hits from the 1990's to the early 2000's each and every Saturday at 6p.m. and pumping out the jams for 2 solid hours of recent nostalgia.
We talk conspiracy theories, 90s and early 2000s nostalgia, music, and pop-culture, all while kicking it old school….well slightly old school anyway. It's oldschool like when school had internet but didn't have wifi…I guess.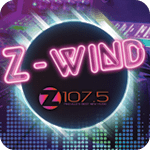 Saturday| 6p-8p