I'm Brittany DeSha' and I've never lived out of the state of Kentucky.   I  have 4 Norwegian Elkhound dogs, 2 cats, and a bearded dragon.
Music is my biggest inspiration and a huge reason why I work in radio. I consider coffee a food group. Listening to vinyl records on big speakers and dancing is my favorite pastime.
Favorite sports teams:
University of Kentucky GO CATS
NFL team is the Denver Broncos
NBA Team is the Golden State Warriors because I Love Willie Cauley-Stein (Go CATS)
Favorite food: tacos, pizza, any type of potato, avocados. Coffee because it's a food group too!
Favorite Bands: The Eagles, Queen, Boys II Men, NSync, The Jonas Brothers, The Spice Girls, Backstreet Boys
Favorite artist/singer; Halsey, Tyga, Post Malone, Bazzi, Whitney Houston,  Billy Idol, Eric Church, Luke Combs.
Favorite Movies: Troy, Top Gun, Grease, Love and Basketball, Sweet Home Alabama
Tv Shows: Friends, The Office, Game of Thrones (winter is coming), Sports Center.
I've been in radio for 2 years my biggest influence to go in the world of Broadcasting are Erin Andrews and Kellie Raspberry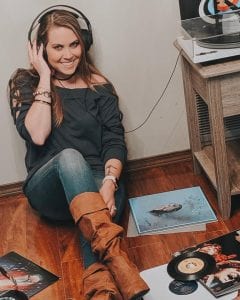 Mon-Fri | 11a-3p