I'm Ben Tackett and I approve this message.
Born in Pikeville, raised in Georgetown, got married, moved back to Pikeville and this is where I'm staying forever.
Got a pretty cool dog named Cash, Rip to my original dog Waylon.
Got a kid named Carter who is currently in training to break some hearts when he's older. Shoutout to my wonderful wife Katie for being my ride or die.
If it's Fall, You know the Wildcats are gonna Ball. I live for Caturdays. No really, ask Brittany. Favorite sports teams: Them Wildcats buddy. The Cincinnati Reds Steeler Nation! Bubba Watson. He is his own team in the world of golf.
Favorite Foods: I believe all food is created equally and I will equally smash all of it. Absolute favorite would have to be Cajun!
Ask me about music and you might get sick of me talking. I know the most ridiculous small facts about all genres of music for absolutely no reason. Well maybe not all, but most. The 90s live in my soul though, so I'm partial.
If you ask me to recite a Lil Wayne song, don't be surprised when I crush it.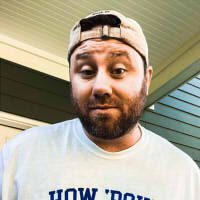 Saturday | 6p-8p